Language courses in Spain with our partner language school in Granada
Our partner language school is a small school, with a capacity of 150 students, which makes it a perfect place to receive personalized attention and to feel right at home
Location language courses in Spain:
Downtown, just a couple minutes' walk from the cathedral and within walking distance of the Alhambra, the Albaicín and the Conference Center; not far from the school, buses depart for the Sierra Nevada mountains and the Mediterranean coast almost every hour, almost all student accommodation options are located a short walk away. You can find information material about the language courses in Spain here.
Facilities
The school occupies an entire 5-story building

Lots of windows and balconies, providing the school with an open atmosphere and plenty of natural light

A reception area
Wireless internet throughout the school

Computers and audio-visual equipment

Recreation room where you can watch TV, play board games or darts, listen to music, read books

Air conditioning and central heating
Price example Granada Courses 2020

4 weeks intensive course  (20 lessons per week)

4 weeks accommodation, double room, shared student flat

Registration fee

Total

700 €

436 €

35 €

1.171€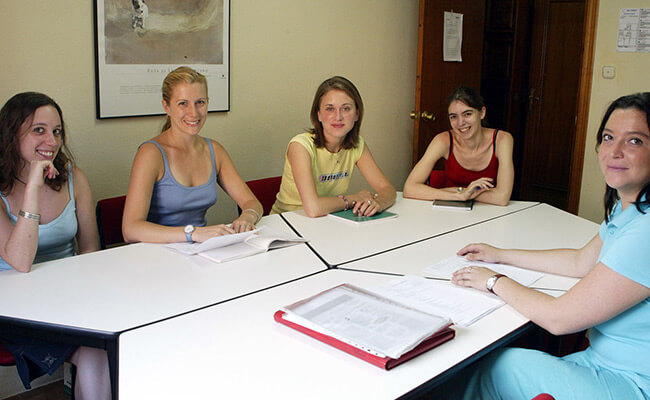 The city of Granada
Granada is located south of the Iberian peninsula at the foot of the mountain range "Sierra Nevada", which measures at its peak over 3,400 meters. In the summer it gets very hot in Granada, while in winter it gets very cold for Andalusian conditions. Therefore Granada can even offer excellent snow sports in the winter. Granada is one of the most visited places by tourists in Spain. The reason for this is above all the unique Alhambra. A mix of palace and fortress with beautiful gardens from times when the Moors ruled here.
Moreover, only 45 minutes from Granada is the Costa Tropical. Dozens of beaches and many small bays invite you to swim.