Spanish courses in Spain – Our partner language school in Salamanca
Salamanca, known as Spain's "Golden City" because of the fact that it is built out of yellow sandstone which glows golden as the sun is going down and is home to the fifth oldest university in the world.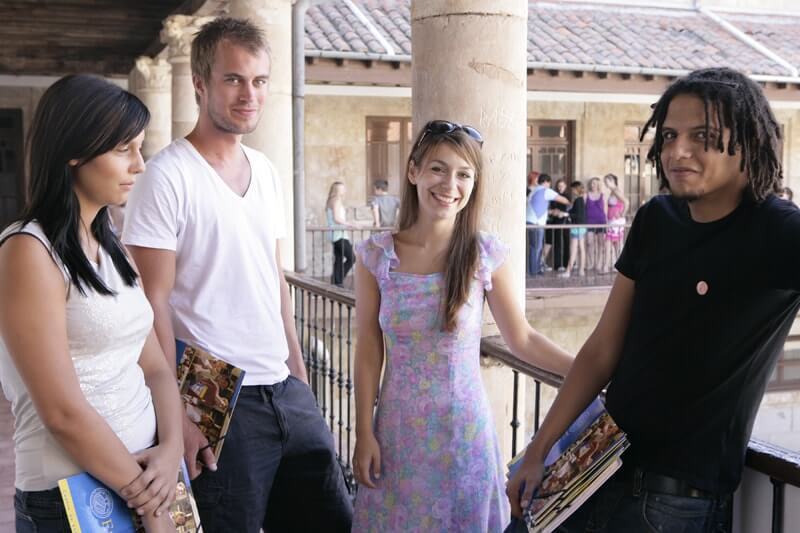 Living in Salamanca is like being transported to another era: the entire city center is composed of golden, historic buildings dating as far back as the 13th century. The Salamanca Spanish school blends right in, a former convent of sandstone right in the heart of town. On the other hand, the schools offers modern amenities and a beautiful courtyard. You can find information material about the Spanish courses in Spain here.
Location Spanish courses in Spain:
In the city center, on the corner of Gran Vía, 5 minute walk from the Plaza Mayor, Salamanca's main square.
Facilities
Renovated and modernized former convent, 5,420 m2

60 classrooms

Lecture room, common lounge area
Computer lab with free internet

Wireless internet in the building (Wi-Fi)

Beautiful central courtyard
Price example Salamanca Courses 2020

4 weeks intensive course  (20 lessons per week)

4 weeks accommodation, double room, shared student flat

Registration fee

Total

700 €

436 €

35 €

1.171€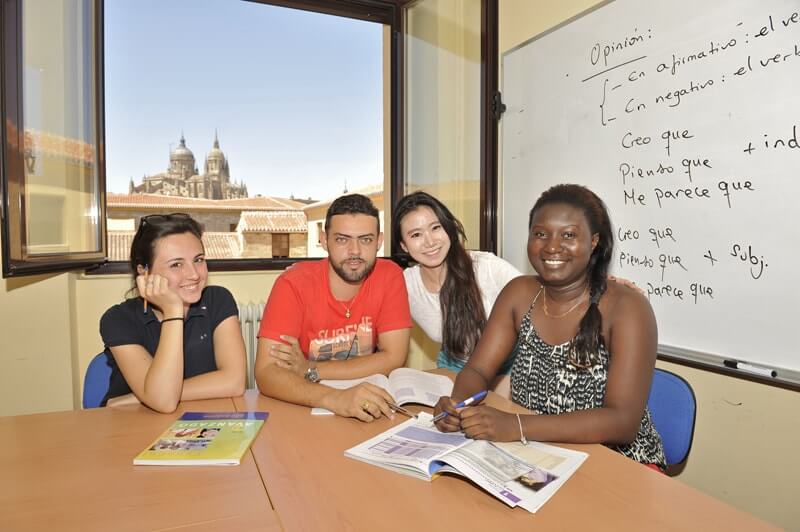 The city of Salamanca
Salamanca is located relative in the middle of the Spanish mainland; it is about 200 km away from Madrid and with its round 150,000 inhabitants, still quite contemplative. However, it was 2002 European City of Culture, thanks to the most beautiful Plaza Mayor in Spain and two ancient cathedrals.
As nickname Salamanca is called "Golden City" because many old buildings in the city centre have been erected from the same sandstone and are bright shining under the sun. But best known is Salamanca for its university, which is the second oldest university in Spain and takes up to 40,000 students.
Because a majority of the inhabitants of Salamanca are students, the city is shaped accordingly; this is particularly shown by a very lively nightlife and a large concentration of bars and clubs. Incidentally, in Salamanca the best high Spanish is spoken, which makes it particularly attractive for language holidays.