Spanish language school in Malaga
If you would like to get to know Andalusia's most famous city, Malaga is the right place for you!
Our partner Spanish language school in Malaga combines Spanish courses and leisure effortlessly: It have its own pool, and the beach is just across the street! The school is designed in harmony with its natural environment, with 2 outdoor classrooms and gardens to enjoy the Costa del Sol's abundant sunny days.
If you're not much of a city person but want to have an urban center at hand, this is the perfect environment for you. And if you're a beach lover, you'll be hard pressed to find a better location! You can find information material about the language courses here.
Location Spanish language school in Malaga:
Across the street from the beach, 10 minute bus ride from the city center; there is a bus stop right at the school's entrance, numerous markets, shops, pharmacies, restaurants and bars in the vicinity.
Facilities
7 indoor classrooms and 2 outdoor classrooms for the summer months

2 computer rooms with Internet access

Wi-Fi (wireless access throughout the school)

Library, Video room

Porch, Swimming pool, lush gardens in the front and back

Wheelchair accessible
Price example Malaga Courses 2020

4 weeks intensive course  (20 lessons per week)

4 weeks accommodation, double room, shared student flat

Registration fee

Total

700 €

436 €

35 €

1.171€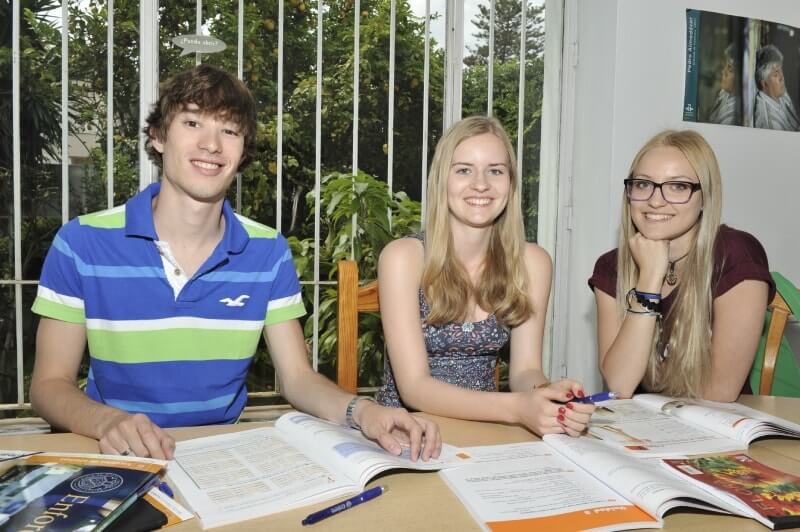 The city of Malaga
With almost 600,000 people is Malaga the sixth-largest city in Spain. Malaga is located in the south, in Andalusia, on the seafront on the Costa del Sol and enjoys therefore all year round a great weather. In addition, the city lies just a short distance from other known Spanish cities like Seville, Marbella and Granada.
Not without reason, Málaga applied for 2016 as European Capital of Culture, because it has much to offer. The Alcazaba, a Moorish fortress from the 8th century, its beautiful cathedral, built on a mosque and a Roman amphitheater from the 3rd century offer a lot of culture and history.
As Picasso's birth place, there is in Malaga also a lot to see for art lovers. The Picasso Museum houses over 200 works of this artist. And also the fun comes in Málaga thanks to an extravagant nightlife and numerous sporting activities not too short.