Spanish language school Spain – Alicante
Conveniently located, spacious and modern is our language school in Alicante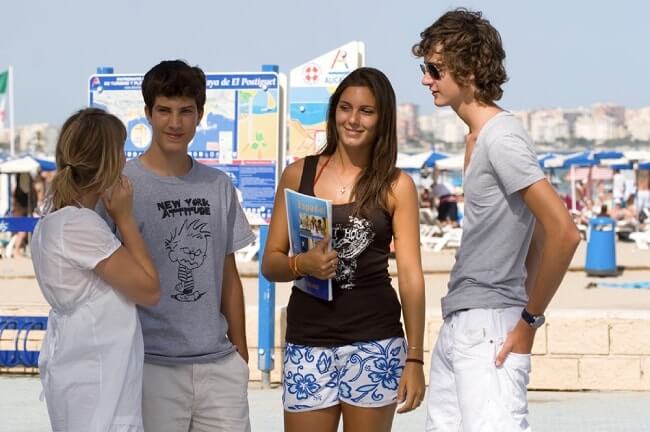 Location Spanish language school Spain:
If you've always imagined Spain as a warm, Mediterranean paradise, you should come and attend Spanish courses in Alicante. With some of the most beautiful beaches in Europe, Alicante is close to the perfect place for anyone looking to have a calm, relaxing time near the beach and with all the amenities and services that come with an urban development. You can find information material about the language courses here.
The Spanish language school Spain is situated on the "Paseo de la Explanada" – the city's most famous street, a pedestrian promenade along the beach. Centrally located with a plethora of restaurants, cafes, disco bars along the Explanada and around. Just a two minute walk from the beach! Right by Rambla Méndez Nuñez, a main bus stop.
Facilities
8 spacious and well-lit classrooms

Computer lab with free Internet access
Wi-Fi wireless internet throughout the school

Library and video room

Spacious common areas

Air conditioning and central heating
Price example Alicante Courses 2020

4 weeks intensive course  (20 lessons per week)

4 weeks accommodation, double room, shared student flat

Registration fee

Total

700 €

436 €

35 €

1.171€
The city of Alicante
One of the great advantages of the location of the spanish language school in Alicante is that it enables students to make the most out of their study and free time. Literally around the block from the center of town and the most active area in the city, you will find a whole plethora of bars, restaurants and cafes within seconds, such that you can go from working mode to bohemian laissez-faire within a few seconds. Added to the relaxation due after a hard day's work, this will help you develop your practical knowledge of Spanish, rubbing shoulders with the locals.
Similarly, the beautiful beach of Alicante is no more than a couple of minutes' walk from the premises of our partner language school. Go into class in the morning and profit from the best that the city has to offer with a charming mid-day dip into the sea, or a romantic sunset drink to the soothing tune of the waves rolling into the shoreline. Make the most of your time in Alicante and of the location of the school, taking advantage of its facilities and its location.