Spanish language school in Marbella
Our partner language school has a capacity of 130 students.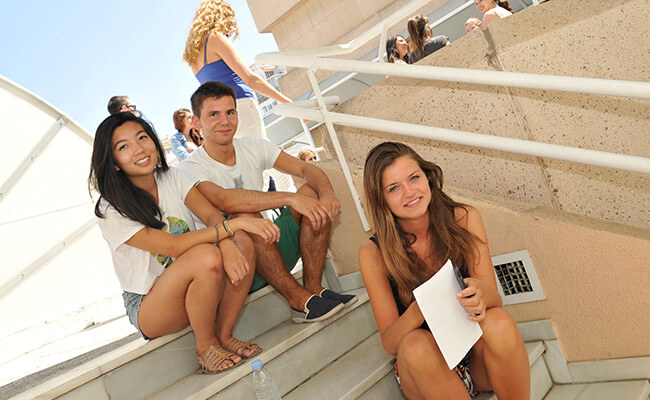 Our partner language school in Marbella is a small school designed around open-air spaces to enjoy the city's excellent weather. The center's size, fosters a community feel, where Spaniards mingle with internationals between all the language classes. You can find information material about the spanish language school here.
Location Spanish language school Marbella:
Downtown. 5 minute walk from the beach and the Maritime Promenade. Next to various bus lines.
Facilities
New 3-story building

17 classrooms (14 inside and 3 outside) with natural light from the terrace

Each classroom has audio-visual equipment

7 computers with free Internet access
Wi-Fi wireless internet throughout the school

Huge terrace, 3,500 m2

Air conditioning

Large common room with vending machines

Study hall / reading room / Library services (books and videos)
Price example Marbella Courses 2020

4 weeks intensive course  (20 lessons per week)

4 weeks accommodation, double room, shared student flat

Registration fee

Total

700 €

436 €

35 €

1.171€
The city of Marbella
Marbella is only 50 km west of Málaga on the Costa del Sol. Favored from its location right on the coast and surrounded by mountains, Marbella enjoys warm and pleasant summers and mild winters.
Not without reason, the high-society selected Marbella as its venue. Marbella shines with very well-kept boulevards and parks. The typical Andalusian narrow streets in the downtown area inveigle to stroll. In addition, Marbella has two beautiful beaches, where one can sunbath in the summer, almost every day under a blue sky.
Especially worth seeing is Marbella's marina, Puerto Banus, where a yacht is more beautiful than the next. This is also the location where the jet set get together and where the centre for an exciting and exclusive nightlife is.