Spanish school Seville – Spanish language courses
The language school in Seville captures the essence of the city's charm: it's a white-washed building in the heart of the Old Town.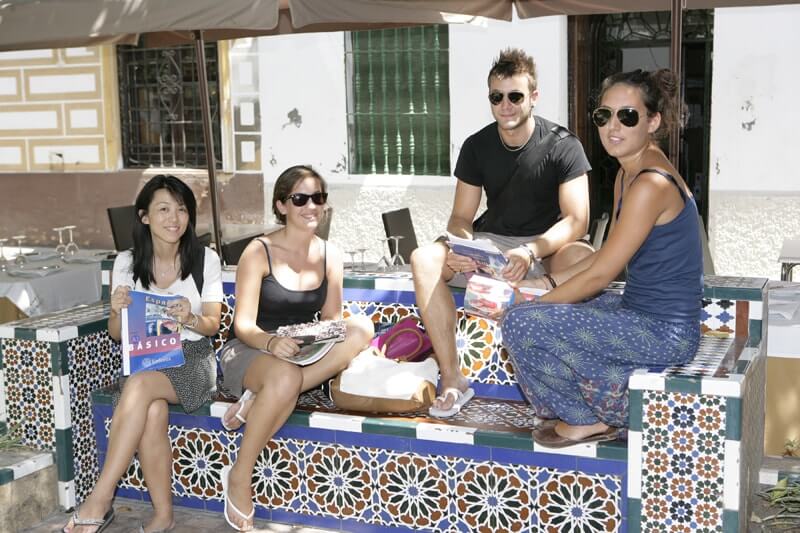 When class lets out, you can lose yourself along the area's historic winding streets – just a stone's throw from the Cathedral and Alcazar – or relax on our rooftop terrace and revel in the incredible number of sunny days Seville enjoys every year.
Our language partner school in Seville is a historic landmark, designed by the same architect that erected one of Seville's most emblematic monuments, "Plaza de España". You can find information material about the Spanish school Seville here.
Location Spanish school Seville:
In "Barrio Santa Cruz", the city's historic Jewish quarter, right by the Cathedral, Alcazar, City Hall and more, surrounded by a multitude of restaurants, bars and shops.
Facilities
Reception area / office

12 classrooms, all air-conditioned

Wi-Fi (wireless access throughout the school)

Roof Deck
Meeting Room

Multimedia Classroom
Price example Seville Courses 2020

4 weeks intensive course  (20 lessons per week)

4 weeks accommodation, double room, shared student flat

Registration fee

Total

700 €

436 €

35 €

1.171€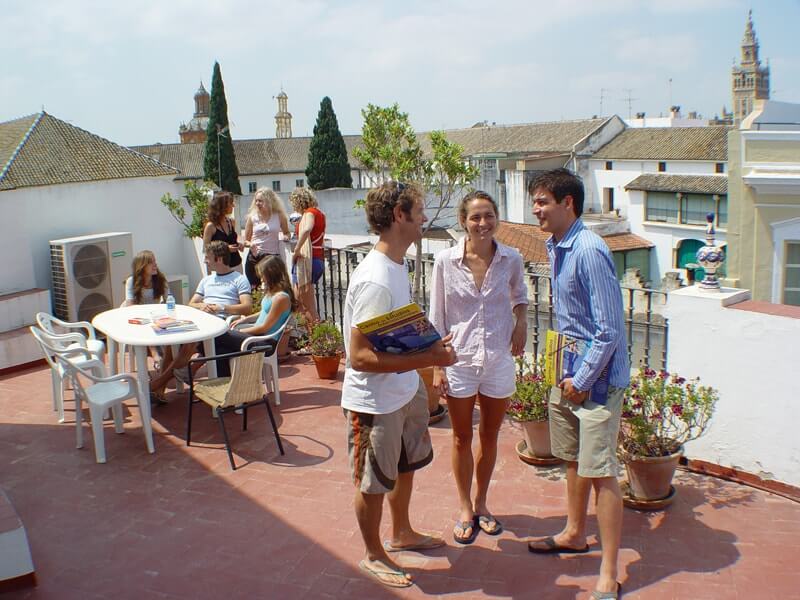 The city of Seville
As the capital of Andalusia, Seville is also the heart of the Andalusian culture and center of the Flamenco dance. Seville is one of the largest cities in Spain and offers a 2000 year old history. But the city is mostly influenced by the Moors, so that the city centre is still marked with buildings with flat roofs and rarely higher than two floors.
Under almost year-round blue sky and sunshine in Seville one of the largest cathedrals of the world, many green parks and everywhere cozy tapas bars can be found. Furthermore, the Alcazar, a Moorish palace with great gardens and the Plaza de España make Seville to a city you should have visited once.
With the Santa Cruz district and the Argote de Molina street Seville also offers good opportunities for the leisure-time, and with the streets of Betis and Alfalfa many discos and bars for every taste offer to start into the night.